New Chinese trailer for Star Wars: The Last Jedi trailer features a sneak peek of the space casino, Canto Bight. Plus, the Chinese movie poster. The scene has Fathiers (Star Wars' Space Horses) trashing through the casino. And it looks like that Finn and Rose are riding one of them.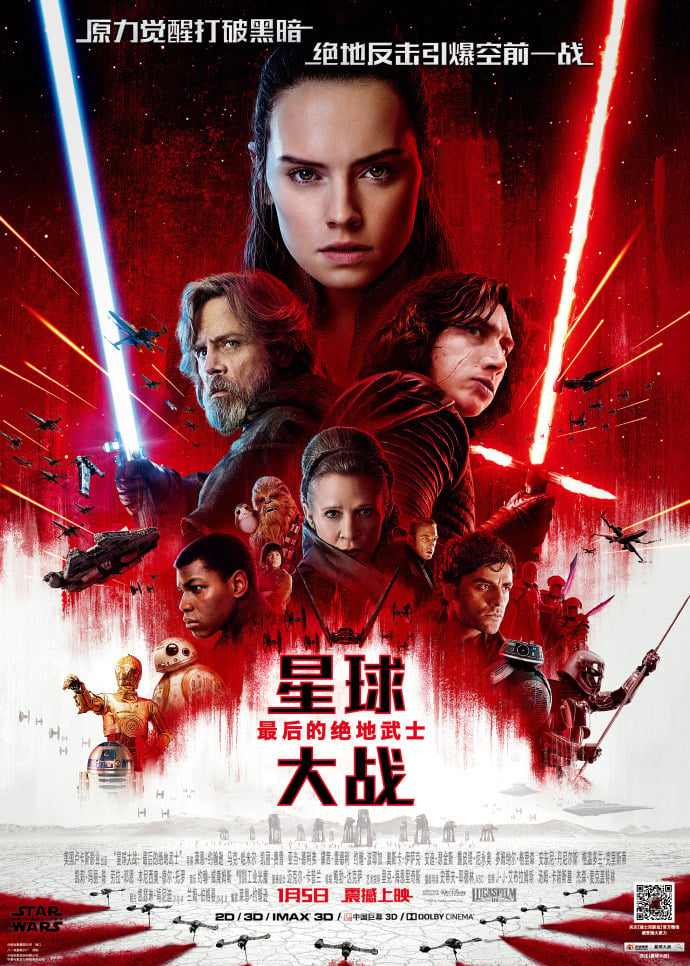 Synopsis : Having taken her first steps into the Jedi world, Rey joins Luke Skywalker on an adventure with Leia, Finn and Poe that unlocks mysteries of the Force and secrets of the past. – IMDB
Star Wars: The Last Jedi (also known as Star Wars: Episode VIII – The Last Jedi[5]) is an upcoming American epic space opera film written and directed by Rian Johnson. It is the second film in the Star Wars sequel trilogy, following Star Wars: The Force Awakens (2015). The film is produced by Lucasfilm and will be distributed by Walt Disney Studios Motion Pictures. It stars Mark Hamill, Carrie Fisher, Adam Driver, Daisy Ridley, John Boyega, Oscar Isaac, Andy Serkis, Lupita Nyong'o, Domhnall Gleeson, Anthony Daniels, and Gwendoline Christie in returning roles, with Kelly Marie Tran, Laura Dern, and Benicio del Toro joining the cast. – Wikipedia
It premieres in theaters everywhere starting from December 13. And December 15 in US theaters.