"This summer, the galaxy won't save itself." GOTG Vol. 2 teaser trailer is here!
After the release of the Guardians of the Galaxy Vol. 2 official poster, a teaser clip then followed. GOTG Vol. 2 director James Gunn posted on his Youtube account the first ever Guardians Vol. 2 teaser trailer. The teaser clip features the gang and new adversaries while that catchy 60's tune by Blue Swede plays again in the background.
The clip shows Gamora (Zoe Saldana) wielding a sharp weapon before cutting to Rocket and Yondu walking side by side while Ravagers are falling around them. We'll also get a glimpse of Nebula being unhooded. As the poster has revealed, we will see these past enemies, Yondu and Nebula, siding with the Guardians.
Although the teaser didn't reveal much of the plot, that scene with Drax the Destroyer and  Star-Lord is something to look forward to. Their part starts with Drax sharing a bit of wisdom to Star-Lord regarding his feelings for Gamora. "There are two types of beings in the universe- those who dance and those who do not," says Drax. Star-Lord then quips "I get it. I'm a dancer, Gamora is not." Drax then crushes his hopes by advising him to look for someone else who's as pathetic as he is.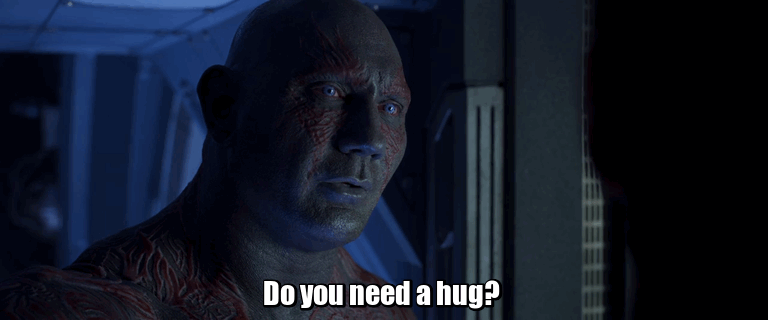 Here is the film's official synopsis:
Set to the backdrop of 'Awesome Mixtape #2,' Marvel's Guardians of the Galaxy Vol. 2 continues the team's adventures as they traverse the outer reaches of the cosmos. The Guardians must fight to keep their newfound family together as they unravel the mysteries of Peter Quill's true parentage. Old foes become new allies and fan-favorite characters from the classic comics will come to our heroes' aid as the Marvel cinematic universe continues to expand.
Guardians of the Galaxy Vol. 2 stars  Chris Pratt as Star-Lord, Zoe Saldana as Gamora, DaveBautista as Drax the Destroyer, Bradley Cooper as the voice of Rocket, Vin Diesel as the voice of Groot, Karen Gillan as Nebula and Michael Rooker as Yondu. Cast additions include PomKlementieff as Mantis, Elizabeth Debicki as Ayesha , Chris Sullivan as Taserface and KurtRussell as Ego the Living Planet. GOTG Vol. 2 is slated to hit theaters on May 5, 2017.