The Fate of The Furious trailer features explosions, car chases and a kissing scene from Vin Diesel and franchise newcomer Charlize Theron.
Vin Diesel, Dwayne Johnson, Tyrese Gibson and the gang are coming back for the eighth installment in The Fast and the Furious franchise. After Paul Walker's death during post-production of Furious 7, an eighth installment was already brewing at that time. Vin Diesel said in an interview: " I was trying to keep it close to the vest throughout the release. Paul Walker used to say that [an eighth film] was guaranteed. And in some ways, when your brother guarantees something, you sometimes feel like you have to make sure it comes to pass… so if fate has it, then you'll get this when you hear about it. [Furious 7] was for Paul, [the eighth film] is from Paul."
The cast did not disappoint their departed friend and all the Fast and Furious fans. The Fate of The Furious exceeds its predecessors with filming locations ranging from the busy streets of New York City to snow laden Iceland. Take a first glimpse of the fast paced action movie, which is directed by Straight Outta Compton's F. Gary Gray, below. Make sure to finish the whole trailer or else you'll miss Charlize Theron giving Vin Diesel a smooch.
Here is the movie's official synopsis.
On the heels of 2015's Furious 7, one of the fastest movies to reach $1 billion worldwide in box-office history and the sixth-biggest global title of all time, comes the newest chapter in one of the most popular and enduring motion-picture serials of all time: The Fate of the Furious.
Now that Dom and Letty are on their honeymoon and Brian and Mia have retired from the game—and the rest of the crew has been exonerated—the globetrotting team has found a semblance of a normal life. But when a mysterious woman (Oscar® winner Charlize Theron) seduces Dom into the world of crime he can't seem to escape and a betrayal of those closest to him, they will face trials that will test them as never before.
From the shores of Cuba and the streets of New York City to the icy plains off the arctic Barents Sea, our elite force will crisscross the globe to stop an anarchist from unleashing chaos on the world's stage…and to bring home the man who made them a family.
For The Fate of the Furious, Vin Diesel is joined by a returning all-star cast that includes Dwayne Johnson, Jason Statham, Michelle Rodriguez, Tyrese Gibson, Chris "Ludacris" Bridges, Nathalie Emmanuel, Elsa Pataky and Kurt Russell. In addition to Theron, the series welcomes newcomers Scott Eastwood and Oscar® winner Helen Mirren. The film is directed by F. Gary Gray (Straight Outta Compton) and produced by returning producers Neal H. Moritz, Michael Fottrell and Diesel.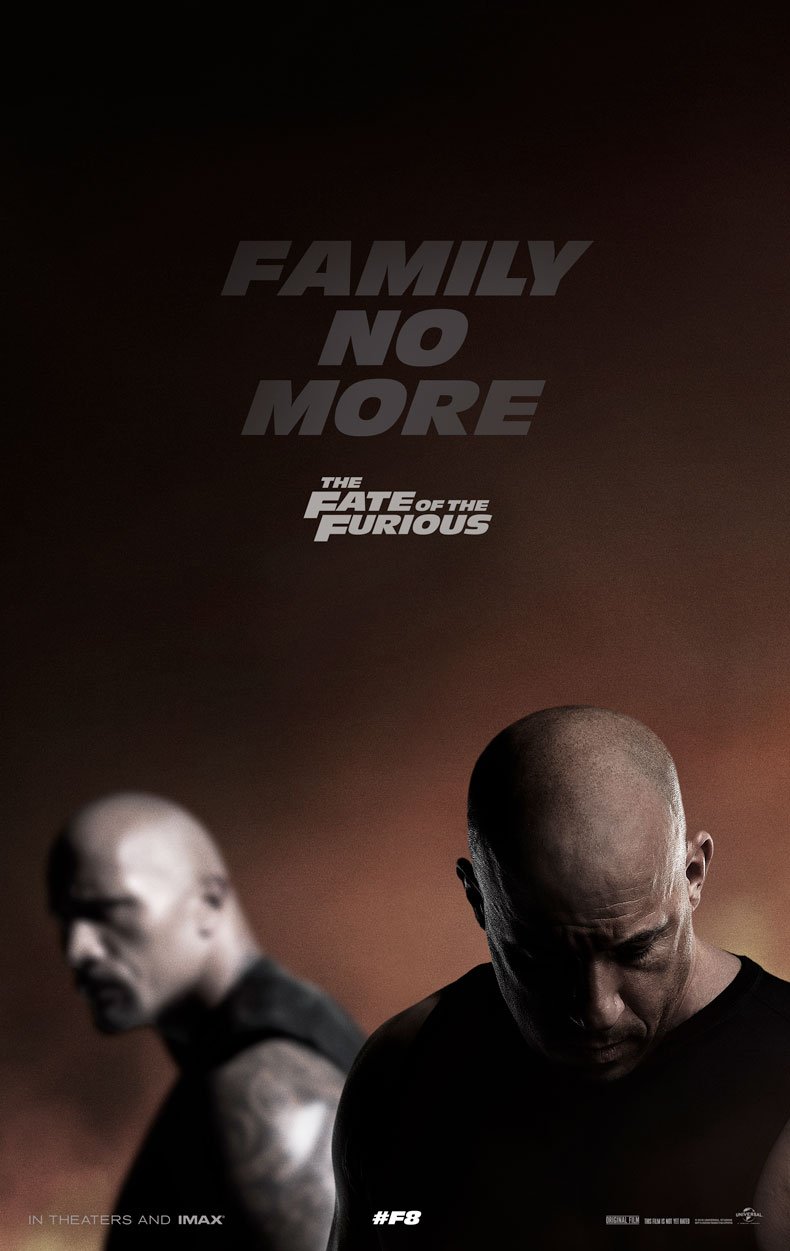 The Fate of The Furious hits theaters on April 14, 2017.